Not Your Bot is a Twitter bot that makes instances of the "He's not your man" meme using ConceptNet.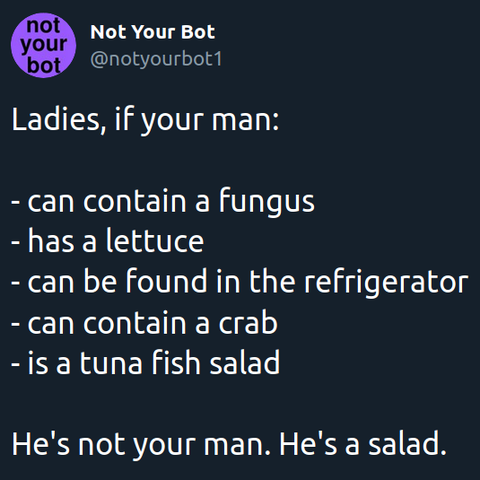 Every hour it picks a word from a list, then fetches the word from the ConceptNet API. The result is a number of "edges" relating the requested word to other words or concepts.
For example:
salad –IsA–> food
egg salad –IsA–> salad
salad –AtLocation–> the refrigerator
lettuce –AtLocation–> salad
It has rules for how to convert the edges into English descriptions, so for the above examples:
is a food
is an egg salad
can be found in the refrigerator
can contain lettuce
Then it's just a matter of selecting five of those, wrapping them in the opening and closing lines, and tweeting the results.
The code is available on Github.
I made this bot in an evening as one of my Makevember projects, during the time this meme was briefly popular. I realised it lent itself to automating with ConceptNet and I'd been wanting to play with that to make a bot.